Slate & Cypress is Your Destination
Getting married at Slate & Cypress Wedding & Event Venue is a destination wedding experience! Located in beautiful Calabash, a picturesque coastal fishing town along the Intracoastal Waterway and adjacent to the Atlantic Ocean in SE North Carolina. It is conveniently located less than 5 miles from the ocean, surrounded by an array of conveniences and amenities, including beaches, dining, lodging, golf courses, shopping, entertainment, and more! We specialize in destination events, so please ask our professional Event Management & Event Planning staff how we can make your dream destination experience!
DINING: Because of its' abundance of fresh seafood, Calabash is known for its' "Calabash-style seafood restaurants", claiming the distinctive title as "Seafood Capital of the World". When choosing Slate & Cypress as a destination venue, there are many fantastic locations that offer quality fare with a charming local feel. While family seafood restaurants are prominent, quality fine dining is also yours to be discovered.
The Oyster Rock Waterfront Seafood
The Boundary House
Grapevine Mediterranean Restaurant & Lounge
Clark's Seafood & Chop House
Calabash Gourmet & Sushi Bar
The Brentwood Restaurant & Wine Bistro
The Parson's Table
Crabby Oddwaters
La Cuchina
Ocean Isle Fish Company
Calabash Creamery
Milk & Honey Breakfast, Bar & More
Ella's of Calabash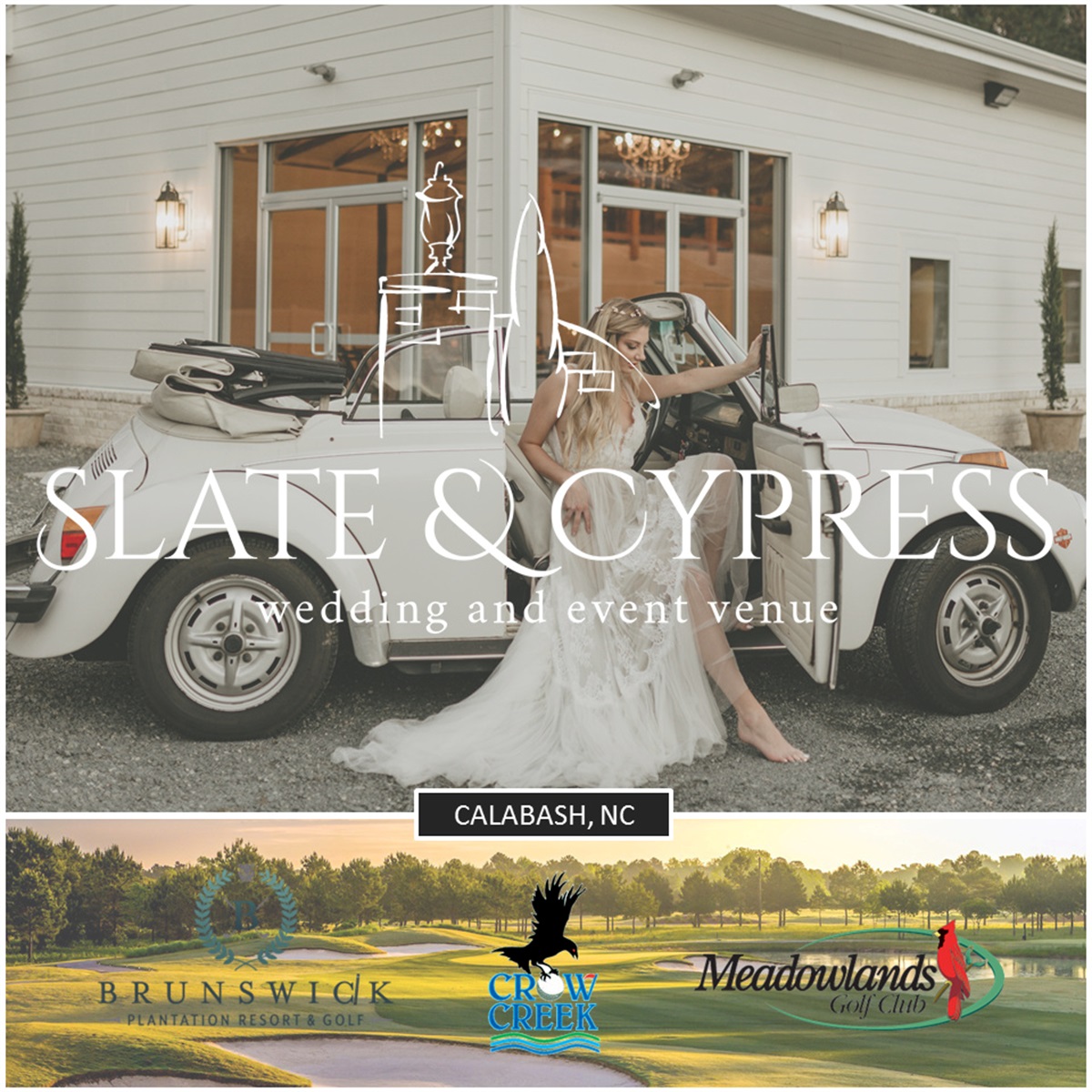 GOLF: Wanting to hit the links? Slate & Cypress is just minutes away from several fine golf courses, including two courses just outside our front gates! Visitors looking to plan a destination wedding at Slate & Cypress have no less than twelve courses to choose from during their visit, each set amongst the gorgeous natural backdrop of the Intracoastal Waterway and the Carolina lowlands. For those who love the game of golf, there's a lot to take advantage of within very close proximity.
Meadowlands Golf Club
Crow Creek Golf Club
Ocean Ridge Plantation
Tiger's Eye Golf Links
Brunswick Plantation Resort and Golf
Thistle Golf Club
The Pearl Golf Course
Sea Trail Golf Resort & Convention Center
Jaguar's Lair Golf Course
Sandpiper Bay Golf & Country Club
Sea Trail Golf Club
Glen Dornoch Waterway Golf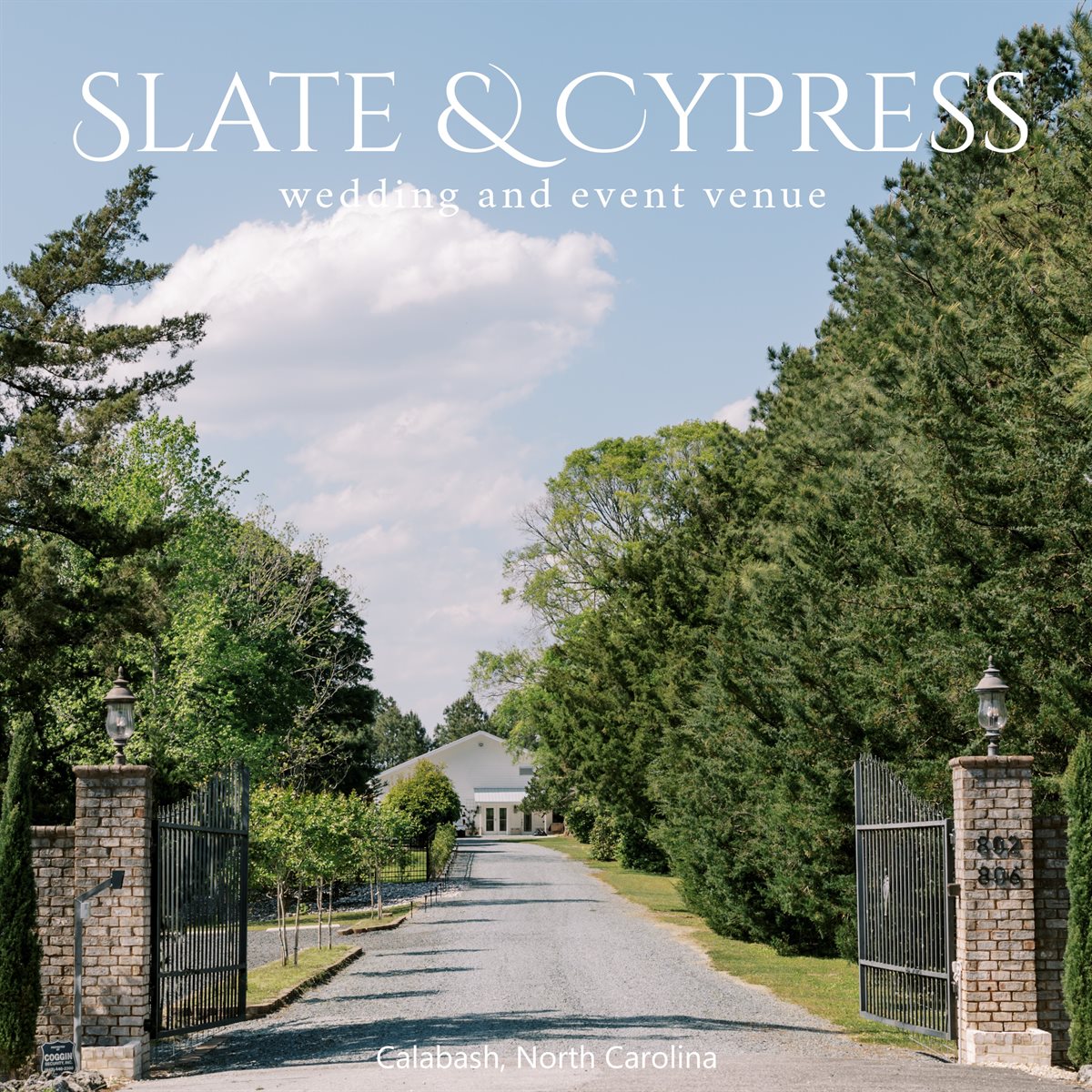 LODGING: Lodging in the greater Calabash, N.C. area includes several options nearby in Sunset Beach, Ocean Isle Beach and North Myrtle Beach, providing close proximity to nearby beaches, amenities, and Slate & Cypress. For convenience and fun, have your guests lodge at one of the many local beach vacation rentals and charter a limo bus to shuttle them the short distance to and from Slate & Cypress. This will allow your guests an enjoyable, laid-back and stress-free vacation stay while you live out your dream destination wedding and event experience!
Explore the many beachfront and golf course community vacation rentals in surrounding Calabash, Sunset Beach, Ocean Isle Beach & North Myrtle Beach:
Kingston Resorts
Marriott Resort at Grand Dunes
Sea Trail Resort Villas
The Sunset Inn
Ocean Isle Inn
Islander Inn
Village at the Glens
Holiday Inn Express N. Myrtle Beach
La Quinta Inn N. Myrtle Beach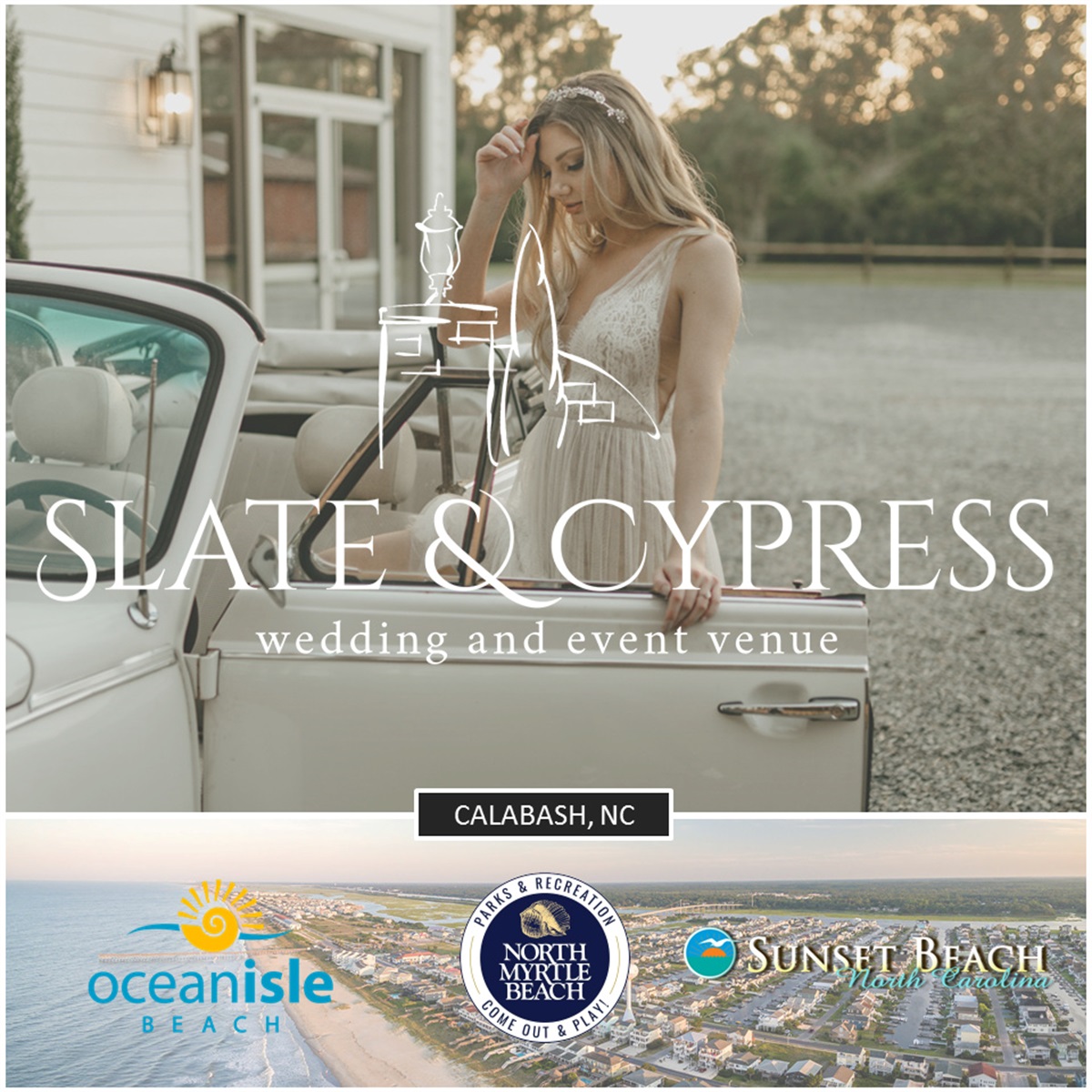 OTHER AMENITIES: Close to Slate & Cypress, as well as the Calabash area, include several parks, fishing, boating, entertainment and the barrier island of Sunset Beach.
Sunset Beach Fishing Pier
Sunset Beach Park
Sunset Beach Seashore
Ingram Planetarium
Vereen Fishing Pier
Vereen Memorial Gardens
River Country Mini Golf
Tropical Adventure Mini Golf
Ocean Isle Beach Pier
Ocean Isle Beach
Intercoastal Waterway
Helicopter rides
The Big M Casino Ship
North Myrtle Beach
Cherry Grove Point
Cherry Grove Fishing Pier
Kindred Spirit Mailbox
Myrtle Beach, SC (<22 mi.)
Wilmington, NC (<46 mi.)
Contact Us for Tours & Availability
Contact Information
Slate & Cypress
802 Hickman Rd NW
Calabash, NC 28467
Phone: (910) 363-6402